WHY CRAZY FROG IS A FRAUD
The Crazy Frog, might not be a FROG after all, maybe not even crazy..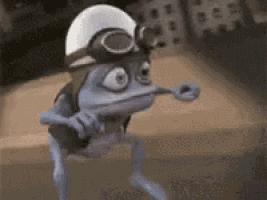 Just who is this "frog"? As we all know, he composed the cover masterpieces "Axel F" and "We are the Champions"...
...however, we shall soon find out he has a more sinister side to him...
THE NUDITY
This may not be known to many people, but the Crazy Frog actually has GENITALS. They're not they're sometimes, but usually you can see them, and its TERRIFYING. I'm not gonna show them here because i dont want "Crazy frog penis" on my Google Search history, but you can look it up yourself.